Italy - Day 3 - Friday, August 12
(If you haven't already, check out Day 2 before reading this entry.)
Venice in a Day
On Thursday we had whetted our apetite for Venice. But for the most part we did not wander far and wide and much of our time was spent acclimating ourselves with our Italian surroundings. And as Saturday would be the day we left Venice to head to Tuscany, that left us with only a single option: Friday. On Friday we would see Venice; we would experience Venice; we would capture Venice in our hearts and in our memories, so that in the future we would be drawn back to this magical city.
We awoke refreshed on Friday morning and headed downstairs to have breakfast at Locanda Orseolo. To be honest, I don't remember much from breakfast except that it was plentiful, varied, and delicious. Lynn reminds me that I have one important observation to make about breakfast on Friday morning:
We didn't eat the chocolate-chip crepes.
You'll have to tune in to the next entry to find out why this is important.
Palazzo Ducale
A month or so before our trip, I had made a reservation for the Secret Itineraries tour at Palazzo Ducale (the Doge's Palace), and so we headed over to the palace immediately after finishing breakfast. We checked our bags (including the camera bag as photographs were not permitted inside the palace) and awaited the start of the tour. Our guide was a veritable fountain of information, regaling us with tales of architecture and art, palace intrigue and civil servants, crime and punishment. We were treated to artwork including Veronese's depiction of the mythical Rape of Europa and the sixteenth-century Scala d'Oro. We marveled at the grand chamber in which Venice's powerful Council of Ten held court and which is now dominated by the imposing sight of Tintoretto's Paradise. We squeezed into the tiny offices of the Venetian republic's bureaucrats, on our way to the armory, torture chambers, and prisons at the very top of Palazzo Ducale. Here, our guide paused to tell us of the life and times of Giacomo Casanova, world traveller, socialite, and renowned lover. Casanova was thrown into the palace's most secure prisons (the Leads) on charges of witchcraft, and his legend only grew stronger when after a year in prison he used his charm and wits to engineer a daring escape.
Besides these highlights, the Secret Itineraries tour taught us about terrazzo marble-chip floors, the extra-secret and extra-powerful Council of Three, and the palace's interrogation room. Following the tour we spent some time exploring the rest of Palazzo Ducale, including the Doges' apartments and the map room. I snapped some photos in the palace's courtyard, and we headed back out to P. S. Marco to wait on line for the Basilica.
Basilica San Marco
As told by our travel guides, Venice's main cathedral was built, destroyed, rebuilt, and destroyed again before being built and consecrated as Basilica San Marco in the late eleventh century. A sanctuary for the remains of St. Mark (said remains having been smuggled out of Alexandria, Egypt while encased in raw meat) and a centerpiece of the Venetian republic, the Basilica was expanded and collected more and more treasures over the centuries.
While experiencing a quite reasonable fifteen minute wait, Lynn went ahead and stashed our backpack in a cubbie hole around the corner. Once we reached the front of the line, we witnessed several disgruntled visitors being turned away to stow their bags or due to their inappropriate clothing. Score one for being prepared. Inside, we were blown away by the magnificent cathedral. There was no one part of the Basilica that caught our attention most; instead, we marveled at everything from the marble floors to the gilded mosaics that scale the walls and domes of the Basilica. We viewed the Pala d'Oro (golden, gem covered altarpiece) up close (recommended) and the tesoro (treasury, containing assorted relics and treasures—not so impressive). We climbed to the galleria on the second floor, which afforded us a birds-eye view of the cathedral and an amazingly detailed examination of the golden mosaics forming the Basilica's walls. We went outside to the balcony, where we enjoyed views of the piazza to the west and the canals to the south. We left the Basilica fully understanding the grandeur of the most famous of all Venetian landmarks.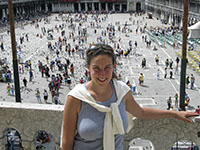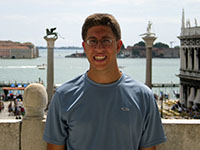 Murano
Leaving P. S. Marco, we strolled lazily through the streets, alleys, and bridges of the Castello sestiere, eventually finding ourselves walking down Fondamenta Nuove towards a vaporetto (water bus) stop that would take us to Murano. Thinking I was being clever and preparing for the trip back, I asked to purchase four tickets for the vaporetto. Instead, of course, I ended up with four round-trip tickets—oops. We arrived at Murano after the short vaporetto ride and by this time it was about 2pm and we were very hungry. We didn't stray far from the Colona vaporetto stop before we found the tourist-heavy Gran Cafe Laguna, where we shared a pizza funghi (decent but overpriced) and drank a whole lot of water at an outdoors table.
For many centuries, Venice has been widely renowned for its beautiful, colorful glass. During the thirteenth century, the frequency and danger of out-of-control fires from glassmakers' furnaces caused Venice to exile the glass artisans to the island of Murano. Following lunch, Lynn and I spent a couple of hours wandering along the Rio dei Vetrai. While somehow we missed out on the various glassblowing demonstrations that our guide books speak of glowingly, we did see magnificent glasswork ranging from tiny beads to vases and decanters to life-size sculptures. In one factory we bought a small glass dolphin (for me) and in another shop we bought a blue pendant and beaded necklace (for Lynn).
Perhaps even more beautiful than the variety of colors and shapes of glass items was the island of Murano itself:
Italian staples: gelato, gondolas, and dinner
We returned to Venice's main island in the late afternoon. Back on Fondamenta Nuove, Lynn enjoyed a gelato (vanilla), and we headed back towards our hotel. Along the way, we passed a vacant fish market and saw several churches in Castello, including Santa Maria dei Miracoli and Basilica di San Giovanni e Paolo. Back at Locanda Orseolo we recharged with a short nap (lesson: naps are highly recommended!) and then headed out once more...
We'd read the travel guides and the message boards. We'd seen numerous professional and not-so-professional writers advise visitors to Venice that gondola rides are overpriced. We'd encountered multiple sources suggesting that a traghetto ride across a canal accomplished the same effect for less than 1/30th the price. We'd even already fulfilled a small bit of our gondola lust at The Venetian in Las Vegas. And so, after our nap, Lynn and I stuck our collective tongue out at all of these well-meaning people and walked over to a gondola stand around the corner.
For 80 euros, we expected greatness. We expected a romantic tour of the grandest canals Venice has to offer. We expected to be serenaded with authentic Italian love ballads. We expected a glorious sunset that would paint the sky with pinks and oranges and purples and reds. Instead, we got Paul McCartney.
As we embarked on our gondola ride, we drifted past a tourist-packed canal-view restaurant at which a piano player was hard at work on a rendition of "Hey Jude". Taking his cue admirably, our friendly gondolier spent significant parts of the rest of our 45-minute ride whistling both "Hey Jude" and "Yesterday." Lest I convey the wrong impression, this was surely one of the most glorious settings in which to enjoy some Beatles music. In the end, we missed our expectations but were better off for it, and as a result we would definitely recommend a gondola ride to lovers experiencing Venice together:
Instead of Italian love ballads, we got Paul McCartney: Now we have a new and wonderful association with music we hear frequently, rather than an Italian song we'd likely have forgotten by dinnertime.
Instead of grand canals, we got small canals bordering the backs of buildings: On our gondola ride we experienced cozy, sunstruck canals only reachable via other canals. We saw small and large boats moored at the backs of buildings that we otherwise would never have encountered. Our gondolier also pointed out the high water mark of the canals along the backs of the buildings.
Insteadof a glorious sunset, we got a moonrise over Venice: OK, OK, so my timing in when to go for our gondola ride was a bit off, but the moonrise was beautiful in its own right: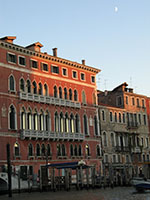 Following our gondola ride, we walked to Cannaregio where we dined (again on suggestion of Barbara from Locanda Orseolo) at Al Fontego dei Pescatori. After entering under a series of arches on a side alley abutting a small canal, we were seated in the small garden behind the main dining room. We began our meal with a first course of anchovies and baccala. For our main course, Lynn had a pasta dish with scallops and zucchini, and I had grilled monk fish. We shared the house white wine, and for dessert indulged in a pumpkin tart and cherries in vin santo. The food was fresh and good, but expensive compared with many other meals that we enjoyed in Italy. The surroundings in the garden at Al Fontego were fantastic—at once both a peaceful dinner in the warm summer evening and also a scene of several larger groups of people clearly celebrating their meal together.
Another leisurely walk through several sestieri followed back towards P. S. Marco. While walking along the arcade that lines northern edge of P. S. Marco, we bumped into Kevin and Jamie, two fellow travelers and fellow denizens of Locanda Orseolo. We headed back to the hotel together, and in the course of chatting discovered that, like Lynn, Kevin had just finished taking the Bar Exam (Pennsylvania, in his case) and, like us, they were on a post-bar-exam extended vacation. An all-too-familiar conversation ensued, filled with talk of torts and civil procedure, constitutional law and contracts. Heroically (well, heroically to myself), I did manage to steer talk towards more interesting topics (in this case, the other places in Italy which Kevin and Jamie were visiting on their vacation). After thirty minutes or so of talking in the courtyard outside Locanda Orseolo, we turned in for the night.
All in all, a day filled with a taste of many things Venetian. We experienced the politics, art, craftsmanship, cuisine, history, and religion of Venice. And we did it all while surrounded by one of the most unique cities we've ever seen.
Next time: a departure and an arrival; dinner and an opera; and Lee almost meets a quite untimely and embarassing end at a rest stop off the Autostrada.
---
Please enjoy all of the pictures from our second day in Venice in my photo album.