In Blarney, Kinsale, and Cobh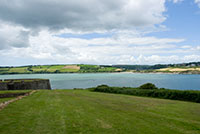 Our next stop after Cherbourg was scheduled to be Plymouth, on the southwest coast of England. Mother nature did not find this an appealing plan, however, and gale-force winds prevented our ship from laying at anchor, particularly since we would have been forced to use small tender boats to take passengers ashore. Instead, we spent that day at sea, with many of us trying to convince ourselves that the moderate-to-heavy rocking movement was all in our heads.
The next day, the weather had cleared and we docked at Cobh, Ireland (map). Based on recommendations from previous cruisers in the area, we had signed up to take a third-party tour of Cobh, Blarney, and Kinsale. We met up with our bus and headed off to Blarney Village. Thankfully, we beat all of the Royal Caribbean buses to Blarney, and so avoided a long line at Blarney Castle (there are two tourist attractions in Blarney Village: Blarney Castle and the Blarney woollen mills--guess which one everybody flocks to first). We strolled through the lush grounds, and entered the castle for the winding walk to the top of the tower housing the Blarney Stone. Along the way there are various bedrooms, kitchens, and other quarters to be seen, though to be honest if you've seen one unfurnished stone room, you've seen them all.
At the top of the tower, we were greeted by magnificent views of the surrounding countryside, as well as an extremely well-rehearsed operation to allow the hordes of tourists their chance to kiss the Blarney Stone, thereby acquiring the gift of eloquent speech. For those of you keeping score at home: Lynn, Marc, Louise, and I all kissed the stone; Ferne and Dave skipped it. We lingered at the top before heading back down, where our egos were warmed by the sight of the crowds gathering to form a longer and longer line to the top--a line that we had avoided altogether.
From Blarney, we drove south and stopped at Charles Fort, just outside the city of Kinsale. This was a British fort built during the reign of Charles II and used until the British left southern Ireland in the early 20th century. While we had no time to explore the fort properly, we were able to enjoy the picturesque views across the harbour to Kinsale and the surrounding countryside.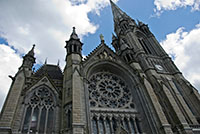 Onwards to Kinsale, the culinary capital of Ireland. Kinsale is a brightly colored, bustling harbour-side city, filled with narrow streets, gourmet restaurants, and plenty of traditional Irish pubs that appear more than happy to cater to traditional tourists. We ducked into a pub and scored a table on their back patio for lunch. A sandwich (not Irish) and ale (Irish) for lunch, a short stroll through some Kinsale streets (featuring some entertainingly named establishments), and it was back to the bus.
We wrapped up the day with a drive through Cobh up to the magnificently situated Cobh Cathedral. The cathedral is looms dramatically over Cork Harbour, and offers sweeping views of the harbour and surrounding developments. We walked inside the cathedral, took some photos in and around the church, and returned to the bus and then to the ship.
All in all, a broad but not particularly deep of several Irish highlights. I didn't feel that I learned a tremendous amount about any of these spots, but I did take some pretty pictures. Please enjoy them.